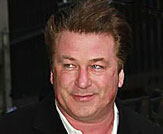 Date of Birth: April 3, 1958
Of all the acting Baldwin brothers (Alec, Billy, Daniel and Stephen), Alec started out his career as unquestionably the best known, most talented, and debatedly, the prettiest.
Baldwin, who dies his hair black, insists "I don't get acting jobs because of my looks," Baldwin studied at the respected Lee Strasberg Institute in New York. His classic good looks and surprising versatility soon landed him a recurring role on the TV soap, The Doctors.
Baldwin first grabbed the attention of movie audiences with a succession of slimeball roles both comic (Working Girl and Married To The Mob) and serious (Talk Radio). He quickly evolved into the quintessential early '90's leading man, in such hits as The Hunt For Red October, Prelude To A Kiss (which he had previously performed on Broadway) and The Marrying Man (where he met and ultimately married Kim Basinger).
Peppered between starring roles were his extremely nasty cameo in Glengarry Glen Ross, and a return to Broadway in Tennessee William's A Streetcar Named Desire. A TV version of Streetcar would win him an Emmy nomination. In 2004, he was nominated for both a Golden Globe award and an Oscar for his performance in The Cooler (2003). He has also won three Golden Globes for his role in the NBC TV comedy series 30 Rock. His more recent film appearances include Rock of Ages (2012) based on the popular Broadway production and the comedy To Rome With Love (2012). He also did the voice for Santa Claus in the animated feature Rise of the Guardians (2012).
A notoriously private individual, Baldwin was charged for assault for allegedly taking a swing at a paparazzi snapping a shot of his and Basinger's baby daughter, Ireland, nicknamed Addie. In February 2002, the couple divorced, amid allegations that Baldwin was guilty of spousal abuse. They were then locked in a nasty ongoing custody battle that went on for years. In June 2011, he was again dealing with his anger when he was kicked off a plane after belligerently refusing to turn off his phone. Then in June 2012, he was again accused—not once but twice—of attacking a paparazzi on two separate occassions. Later that same month, Baldwin married Hilaria Thomas, a 23-year-old yoga instructor in Manhattan.