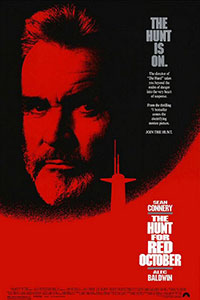 Release Date: March 2, 1990
Genre: Action, Adventure, Thriller
Director: John McTiernan
Studio: Paramount Pictures
Producers: Mace Neufeld
Screenplay: Larry Ferguson, Donald Stewart
Cast: Sean Connery, Alec Baldwin, Scott Glenn, James Earl Jones, Tim Curry, Stellan Skarsgard
Red October is the Soviet Union's new submarine, commanded by Captain Marko Ramius (Sean Connery). Jack Ryan (played by Alec Baldwin), a CIA analyst discovers that it's equipped with a new engine that can make it run silently, enabling them to prepare their missiles without detection.
The U.S. government believes that Ramius plans to use Red October to attack New York City. However, Jack believes that Ramius is planning to defect. Jack is on a mission to prove it while being the subject of a man hunt by the Russians.