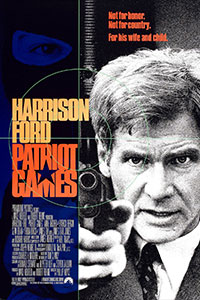 Release Date: June 5, 1992
Genre: Action, Crime, Drama
Director: Phillip Noyce
Studio: Paramount Pictures
Producers: Mace Neufeld, Robert Rehme
Screenplay: Donald Stewart, W. Peter Iliff, Steven Zaillian
Cast: Harrison Ford, Anne Archer, Patrick Bergin, Sean Bean, Thora Birch, Samuel L. Jackson, James Earl Jones
Jack Ryan (Harrison Ford) is now retired from the CIA. He and his family are in London, England for vacation when a terrorist attack occurs at Buckingham Palace. Two men were attempting to kidnap a member of the Royal family. Jack kills one of the two men, who are revealed to be Irish revolutionaries.
The brother of the slain man seeks revenge, planning to assassinate Jack and his entire family. This startling change of events forces Jack to return to the CIA in order to protect his family and stop the terrorist from repeating his crime.